I haven't quite finished my WDW model yet but here's what I''ve done so far.
The Mansion (as you all should know) is a free paper model download found at the excellent website
www.haunteddimensions.raykeim.com
(Check him out!!!!!)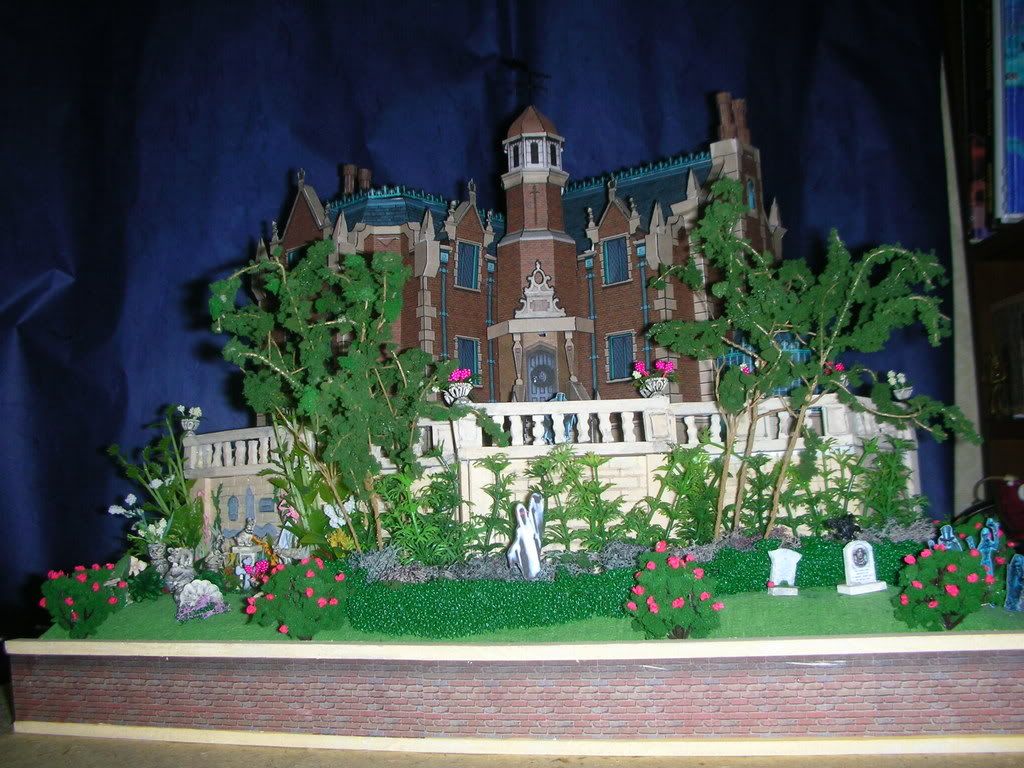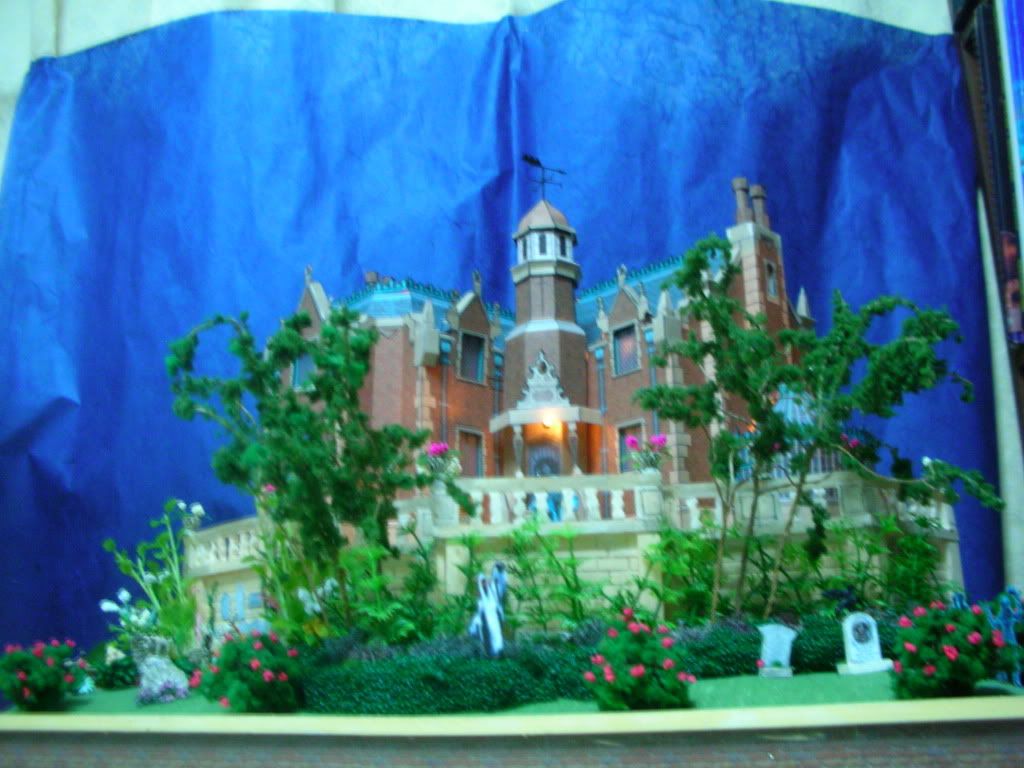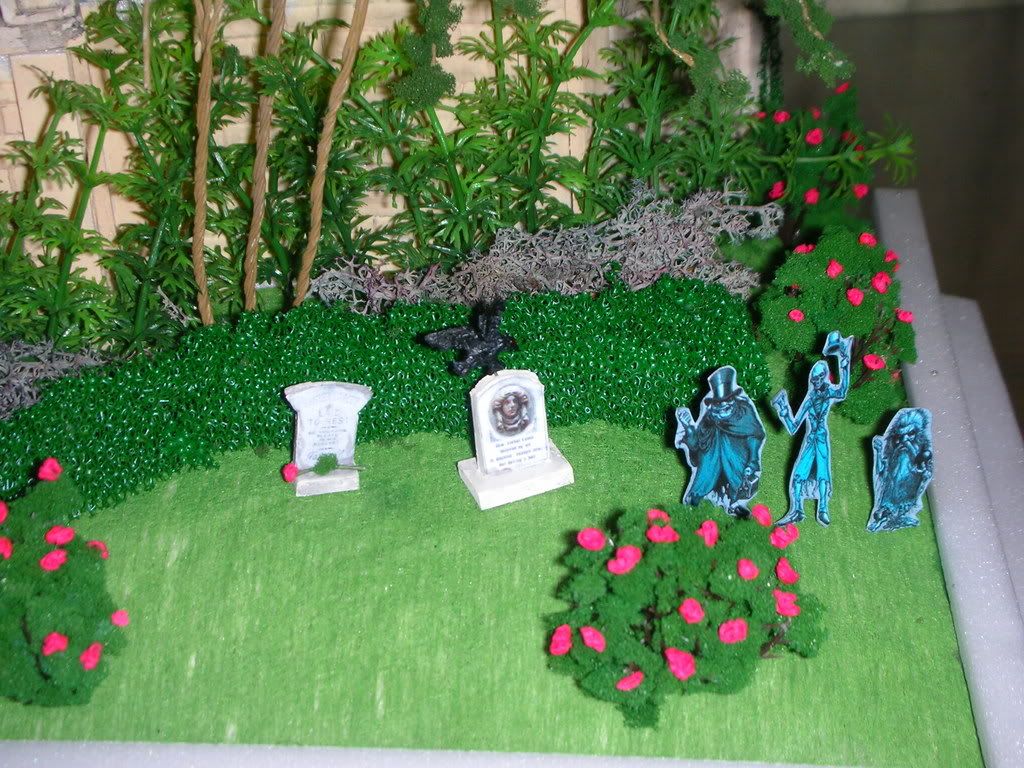 I was originally going to make my model as accurate as possible, but then I decided to add elements
from the other mansions and other parts of the grounds.
There's even a hidden Mickey!!
I wanted to have stairs and a path, but I didn't have enough space.
Eventually, I'm going to make the wire fence, lampposts, and a wire/paper hearse.
When I finally move (and have more room) I intend to make the tombs, gate and the Portico.
Bead shopping is a must for accessorizing your mansion.
I found a crow and many animal charms to make a pet cemetery (D&D miniatures were also used).
Their bases are made with fancy beads (or foam-board).
Other beads can be used to make lamps and lamp stands.
There were some chair charms and a metal backing for a
gemstone that made an excellent outdoor table set.
The base of the model was made with foam-board.
I like using foam-board because it is easy to cut and can be
textured using a thick nail or a hot wire.
It is also easy to paint.
I know my base is not to scale.
The length and width were determined by the shelf it will rest on,
and height was determined by the height of Styrofoam I found.
The outside brick fence was made using a repeating cropped pillar.
I''ve been touring the Korean equivalent of dollar stores for fake flowers.
I''ve found some that are almost to scale to make bushes.
The trees were my first attempt to make trees from scratch.
The roses were all handmade.
It was tedious making them all, but they were quite easy to make.
I just tore tiny stripes of red tissue paper and scrunched them up.
I dyed white hobby- moss/bushes to get the purple tint.
Several reference photos of the mansion show that the second row of bushes are purple (Spring?)
and not green.
The people and graves were all from photos that I found on the Internet.
Roman Dirge designed the Hitchhikers and Hatbox Ghost.
They are from the HM Comic book from Slave Labor Graphics. (#8 will be on sale soon!!)
The bat weather vane is plastic confetti and the letters are made with wire.
All the windows light up, including the front porch.
Because fire and paper go so well together, I decided to make smoking chimneys.
My pipes are external to the model, but they could be contained within.
I used a clear plastic box so people could see how it worked.
Basically, I used a box as an incense burner and added straws to direct the smoke.
The straws I used were too thin so the incense got smothered.
Next time I will use surgical tubing.
Beads and incense burner
I'd really appreciate any comments and suggestions!
You are all welcome to see my photo albums.
There are more pictures of my models (including building stages) and Halloween
but sadly, no photos of the Haunted Mansion.
Hopefully, I'll have some of Tokyo Disney in October.
s183.photobucket.com/albums/x23/kreepykarlBoehm/
s238.photobucket.com/albums/ff3/krazykarlboehm/
Happy crafting,
Karl
*Resized photos